Did you check your Blood pressure?
May 17, 2022
2022-11-04 18:25
Did you check your Blood pressure?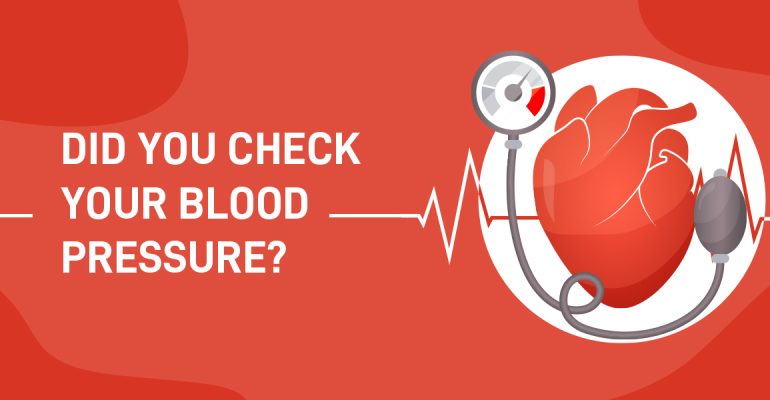 Did you check your Blood pressure?
Did you know that monitoring your blood pressure regularly is the best way to reduce your risk of developing high blood pressure, heart attack, and stroke? Did you also know that hypertension affects 1 in 5 adults globally? [1] Take control of your health with OMRON's celebration of May Measurement Month and World Hypertension Day.
The human body is a delicate biomechanical machine where every biological system has to work perfectly in order to keep a person healthy and kicking. The modern person leads a pretty hectic life, no thanks to long hours at work. Pair that with sedentary lifestyle choices and unhealthy eating habits and one is on the way to getting diagnosed with a myriad of health concerns. One of those medical conditions is abnormal blood pressure, which is medically known as hypertension.
Why is measuring blood pressure important?
High blood pressure increases the chances of a person suffering a stroke or a full-blown heart attack. Experts often advise people to invest in home blood pressure monitor devices in a bid to keep tabs on their blood pressure.
What should be the frequency at which one measures their blood pressure?
According to cardiologists and general physicians, people should measure their blood pressure at least once a week. 
What are the correct numbers?
According to doctors, a normal blood pressure range when checked using a sphygmomanometer is less than 120/80 mmHg and 135/85 mmHg while using a digital blood pressure monitor, irrespective of the person's age. If that is not the case, then consulting with the experts and altering lifestyle choices as well as diet plans is the way of the wise.[2]
Key facts about hypertension levels in India
Impact of hypertension on the body [2]
Hypertension wreaks havoc on the human body. If left unchecked, it can lead to a myriad of life-threatening medical conditions. Some of the worst side-effects are mentioned in the sections below.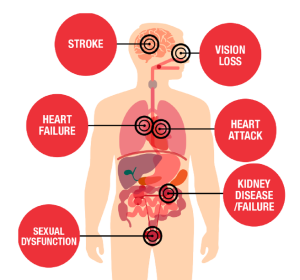 Abnormal blood pressure is the primary cause of death worldwide. This is often categorized as a 'silent killer' as one is unable to learn that their blood pressure is below or above the normal range before it is too late!
Awareness about the medical condition is a guaranteed way to minimize cases of hypertension. Participating in May Measurement Month as well as World Hypertension Day can help a lot.
World Hypertension Day 
World Hypertension Day is observed every May 17, and is meant to increase awareness of hypertension prevention, its detrimental effects, how to identify and manage it, and how to maintain a healthy blood pressure. World Hypertension Day is observed to increase awareness of hypertension and its effects on the human body. World Hypertension Day may seem like a highly stressful day that causes hypertension, but in reality, it is an informative event designed to prevent cases of hypertension.[7]
This year's theme is Measure your Blood Pressure Accurately, Manage it, Live Longer; focusing on combating the worldwide low awareness rates, particularly in lower and middle-income areas, as well as on accurate methods for measuring blood pressure. Through this particular topic, the WHL aims to increase awareness of not only hypertension, but also the factors that lead to the increased prevalence of hypertension, as well as ways to prevent it.[8] Doctors recommend a diet plan, the DASH (Dietary Approaches to Stop Hypertension) program, for hypertension, that emphasizes fruits, vegetables, whole grains, and other foods that are heart-healthy and low in fat, cholesterol, and sodium.[9]
While it is true many people can keep their blood pressure under control by losing excess weight, changing their diet, increasing their physical activity, reducing alcohol, quitting smoking, and taking appropriate medications, currently, there is no permanent cure for hypertension.[10] It is essential that your lifestyle is healthy and free from stress to prevent high blood pressure from taking its toll on you. High blood pressure (hypertension) is a common condition where the force of the blood on the artery walls is long-term enough to possibly lead to medical problems, like heart disease. 
According to the World Health Organization, high blood pressure is a condition where the blood vessels are constantly under high pressure.[9] Hypertension is the main culprit for many health problems, such as stroke, heart attacks, and kidney disease, as well as contributing to dementia. Uncontrolled hypertension can lead to strokes, blindness, and renal and liver failure in susceptible individuals.
Why is Measurement Month important?
May Measurement Month is an annual health observance that takes place during the month of May. The event's goal is to raise awareness of the silent killer hypertension and provide information to the general public on how to monitor, manage, and avoid hypertension. As per official records, more than 90 nations took part in May Measurement Month last year, and this year, more than 80 nations have already mobilized their awareness campaigns pertaining to hypertension.
It is an event held on a global scale, encouraging people of all ages to get their blood pressure checked every May, completely free, all across the world. The theme for 2022 is "TheBigSqueeze". This theme encourages people to give a quick arm squeeze and track their blood pressure. Get #TheBigSqueeze, which will allow you to notice changes in your health and take action to maintain or improve your blood pressure.
OMRON's celebration of May Measurement Month and World Hypertension Day
As part of OMRON's celebration of May Measurement Month and World Hypertension Day, we are offering free products on the purchase of select blood pressure monitors. OMRON offers a variety of blood pressure monitors that can be used by people of all ages. These monitors have a wide range of features that make it easy to monitor your blood pressure levels. One of the main features of OMRON's blood pressure monitors is Intellisense technology that automatically applies the right amount of pressure, making it a fast, accurate, and more comfortable measurement. 
Give your loved one #THE BIG SQUEEZE"
OMRON is also offering a chance for you to be a part of their celebration of May Measurement Month and World Hypertension Day. We are inviting participants to "Give your loved one #THE BIG SQUEEZE". You have a chance to win one of OMRON's best BP monitors. You can check out more details for the event here. This is a great opportunity to win a blood pressure monitor for free.
Conclusion
Hypertension is a serious condition that occurs when your blood pressure is consistently too high. This can damage the blood vessels in your heart, brain, and kidneys over time. Regularly monitoring your blood pressure is the best way to reduce your risk of developing hypertension. OMRON is celebrating May Measurement Month and World Hypertension Day with discounted blood pressure monitors and a creative competition. These events provide important opportunities to promote healthy lifestyle choices to people of all ages.
References
https://www.escardio.org/The-ESC/Press-Office/Press-releases/One-in-five-young-adults-in-India-has-high-blood-pressure
https://www.who.int/news-room/fact-sheets/detail/hypertensionhttps://www.livemint.com/science/health/one-in-four-adults-in-india-suffers-from-hypertension-says-icmr-report-11652211243901.html
https://indianexpress.com/article/india/nationwide-survey-28-per-cent-adults-india-hypertensive-7909792/
https://www.tribuneindia.com/news/nation/72-hypertensive-unaware-of-status-even-as-28-of-deaths-due-to-cvd-393040
https://www.freepressjournal.in/world/world-hypertension-day-2022-high-blood-pressure-is-a-silent-killer
https://www.netmeds.com/health-library/post/world-hypertension-day-2022-let-us-debunk-some-common-misconceptions-of-high-blood-pressure
https://english.jagran.com/lifestyle/world-hypertension-day-2022-know-diet-and-exercise-to-prevent-this-disease-expert-answers-10043484