How to help your father ease stress
June 11, 2022
2022-11-04 18:25
How to help your father ease stress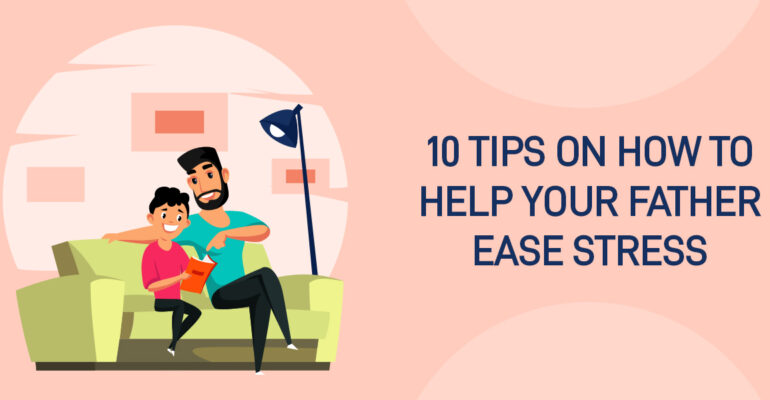 How to help your father ease stress
Fathers play an important role in the overall life of a child. Everyone in some way or another is indebted to their fathers. The debt cannot be repaid but one can at least try to convey the message that they love their father.
The 19th of June is international father's day. This post is dedicated to those who are willing to do something about managing the stress levels of their fathers. 
The following sections will entail information about stress, its impact, and ways to manage it.
Let's begin by understanding the medical definition of stress – 
Stress is the biological response of the human body to emotional, physical, or mental pressure.
Elevated levels of stress compel the human body to flood its bloodstream with a cocktail of chemicals (hormones). The elevated levels of stress-induced hormones result in physiological and biological symptoms. These symptoms may or may not be limited to the following – 
Elevated heart rate

Elevated blood pressure

Elevated blood sugar levels

Frustration

Depression

Anxiety or

Anger (1)
Health complications can manifest in fathers who are stressed
Elevated stress levels are linked with heart disease. Several controlled studies have time and again linked extreme stress with heart problems. Stress elevates heart rate and subsequently blood pressure. Furthermore, stress can also promote the release of triglycerides and cholesterol into the bloodstream.
Doctors around the globe have also pointed out that stress from emotional trauma can lead to cardiac arrests. Hence, renowned cardiologists advise people diagnosed with heart issues to avoid acute stress. 
Controlled clinical studies have also linked stress with asthma. When a person is stressed out, they would tend to smoke cigarettes. Cigarette smoke is the primary reason behind a person developing asthma.
Acute stress often pushes a person to find solace in emotional eating. Emotional eating or binge eating leads to obesity. Comfort food like ice cream, pizza, or deep-fried chicken contains excess fats. The excess fat from the aforementioned food items gets stored in the belly, hips, and thighs of a person. Furthermore, acute stress also increases cortisol levels in a person's bloodstream. Excess cortisol is clinically linked with increased fat deposits in the stressed-out person's abdomen which leads to obesity.
Diabetes
Excess or prolonged bouts of stress can quicken the progress of diabetes. A stressed-out diabetic individual will drop their guard and resort to binge eating. They would also resort to alcoholism. Both binge eating and alcoholism act as a catalyst for diabetes to progress the disease to the next clinical stages. Furthermore, stress, in general, increases the blood sugar levels in a stressed-out person. Hence, an individual who is not diabetic can catch the disease if they do not manage their stress levels. 
Gastrointestinal problems
Stress has also been labeled as a catalyst that causes chronic heartburn as well as irritable bowel syndrome.
Alzheimer's disease
Scientists have concluded from an animal study that stress can increase the progress of Alzheimer's disease. (2)
Top ten tips on how one can help their father ease stress
You need to coach your father about shaking off stress at the moment
Ask your father to shake off stress at the moment. For example, if you notice your father getting restless while he is stuck in traffic, ask him to calm down. You would also need to remind him that worrying won't move the traffic. It will only make him feel worse.
You can offer some form of consolation to your father by asking him to take deep breaths.
Or, you can ask him to talk about things that soothe his mind such as a memory he is fond of. You would have to be patient with him just as he was patient with you, while you were growing up. (3) 
You need to coach your father about healthy eating and drinking habits
You would need to convince your father about the ill effects of alcohol. You would also need to take charge of his eating habits. Make your father ditch processed or deep-fried comfort food items. You can surprise him by cooking healthy balanced meals that will keep him from catching hypertension.
You need to join your father at the gym
One of the best ways to keep stress at bay is to remain active. Regular cardio-based exercise can work wonders. You can always get your father a membership at the local gym. Better yet, you can join your father during his workout sessions and act as his motivator! Make sure that he doesn't push himself beyond his limits.
You need to encourage your father to stop smoking
If your father finds a cigarette to be his stress reliever, you need to step in and change his habit. Nicotine increases blood pressure and prolonged nicotine abuse can lead to hypertension. You need to convey this message to your father as soon as you can!
You need to coach your father about effective relaxation techniques
You need to ask your father to take some time out of his busy schedule and practice relaxation techniques. You can ask him to join you in a session of meditation. Or you can ask him to go with you for a drive to his favorite place. There are many ways to help your father manage his stress. You need to figure out the ones that would work the best.
You need to figure out the stress triggers of your father
Every individual has their own set of stress triggers. Hence, if you want to help your father manage his stress levels, find out his stress triggers. You can actively keep him away from things that cause him to feel stressed out. Or you can teach him passive stress management techniques like – 
Time-management skills

Setting his priorities and

Setting some for him to cool off.
You need to coach your father about the ill effects of impulsive decisions
You can also ask your father to implement his core beliefs before he makes hasty decisions. Advise your father to think twice before making any life-altering decisions that can lead to stress and anxiety. 
For example, if he doesn't know anything about day trading, ask him to stay away from it. On the flip side, if he is good at making decisions about real estate investments, encourage him.
It is as simple as that!
You need to teach your father to say 'no' when he sees fit!
Tell your father that there is nothing wrong with saying 'no' whenever he feels like it. Make him understand that he no longer has to be a people-pleaser. His people-pleasing days are over. He can now take time to look after his emotional and physical well-being by leading a stress-free life!
You need to coach your father to set realistic goals in his life
Tell your father to set realistic goals in his life. That would allow him to accept that he cannot control the outcome but he can control his actions. This can alter his approach to life and help him manage his stress.
You need to coach your father to remind himself that he is the best!
Often men suffer from an inferiority complex when they face hardships or failures. If your father has been stressed out lately due to hardships, tell him it's going to be okay. You need to remind your father that he is a born winner. You need to make him believe that with time, he will overcome the hard times. (4) 
Conclusion
If your father struggles to keep his stress levels under check, it is time you step in and help him. You need to make him understand that he is putting his physical and psychological well-being at risk. You must ensure that you are right beside your father, helping him cope with his stress levels. It is the least you could do.