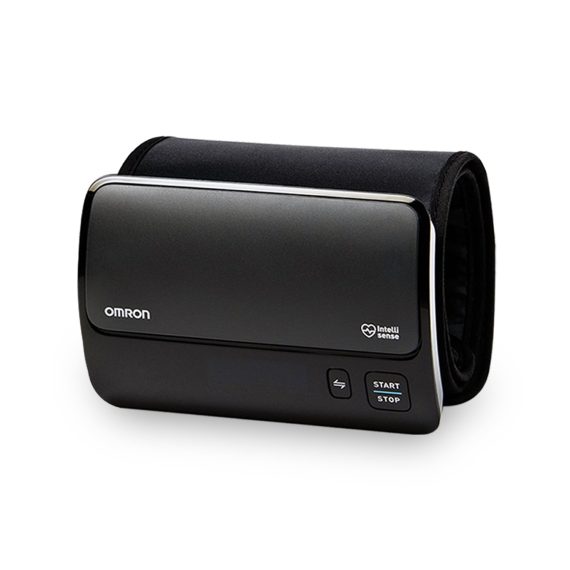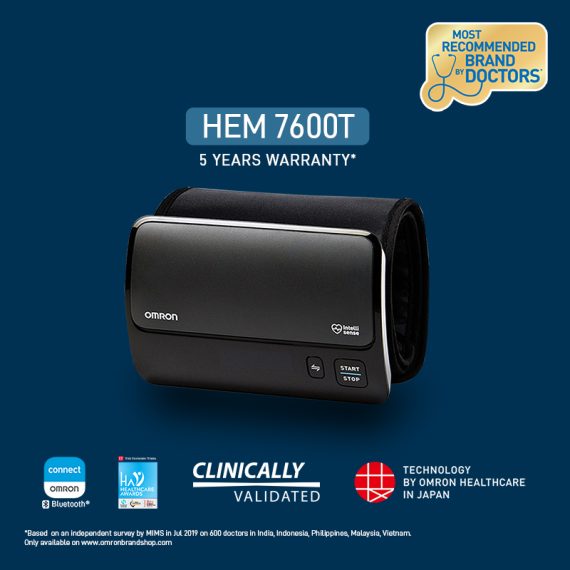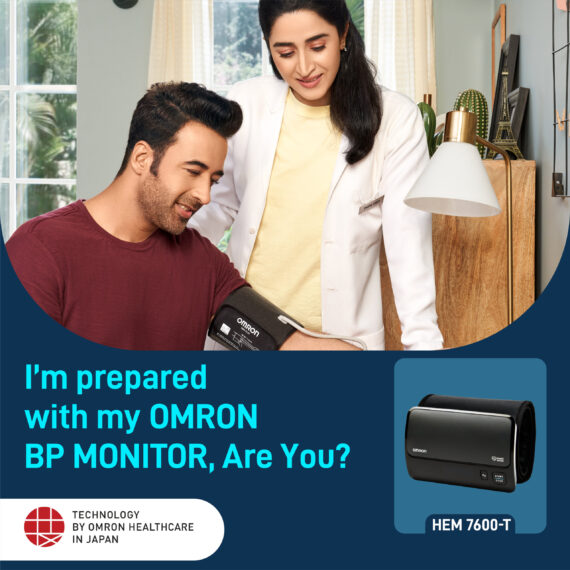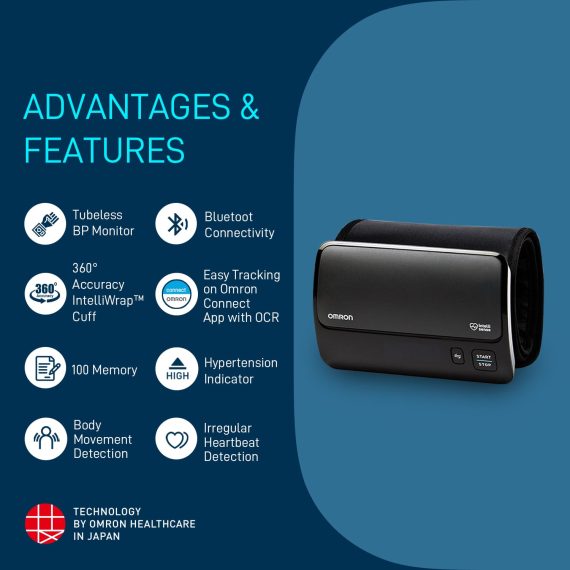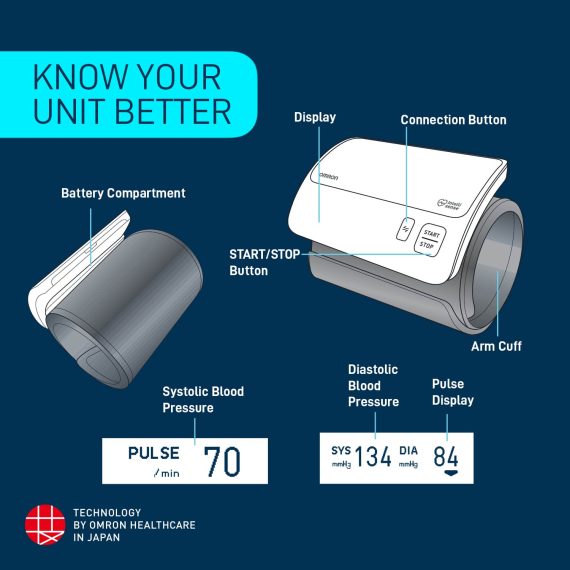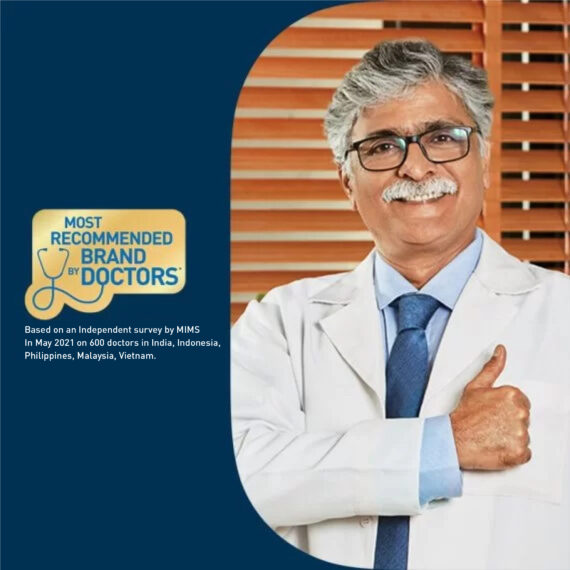 Omron Smart Elite + HEM 7600 T digital blood pressure machine
Offer Price
₹10,980.00
Inclusive of all taxes
The Omron Smart Elite + HEM 7600 T digital blood pressure machine is the latest innovation in the range of Hypertension Management Products which makes it convenient for users to keep a consistent tab on their heart health. The BP check machine comes equipped with Intellisense Technology and IntelliWrap Cuffs which makes the process of taking hypertension readings accurate, convenient, and comfortable. Features like 360° accuracy and tubeless technology makes the device easy to use for all age groups.
Intelli Wrap Fit Cuff (22-42 cm)
Country of Origin: Japan
Share your Reviews !
In stock
Description

Simple to Connect
Easy setup process for automatic data transfer.
Access Anytime
Your latest activity and personal history is always at your fingertips with your health data securely stored on your smartphone.
Clear and Insightful Results
Spot trends and monitor your health over time.
Intuitive Dashboard
View recent measurements on the dashboard and get visual reminders to measure frequently.
Keep Track of Your Health
See how your health has changed over time with clear graphs and charts.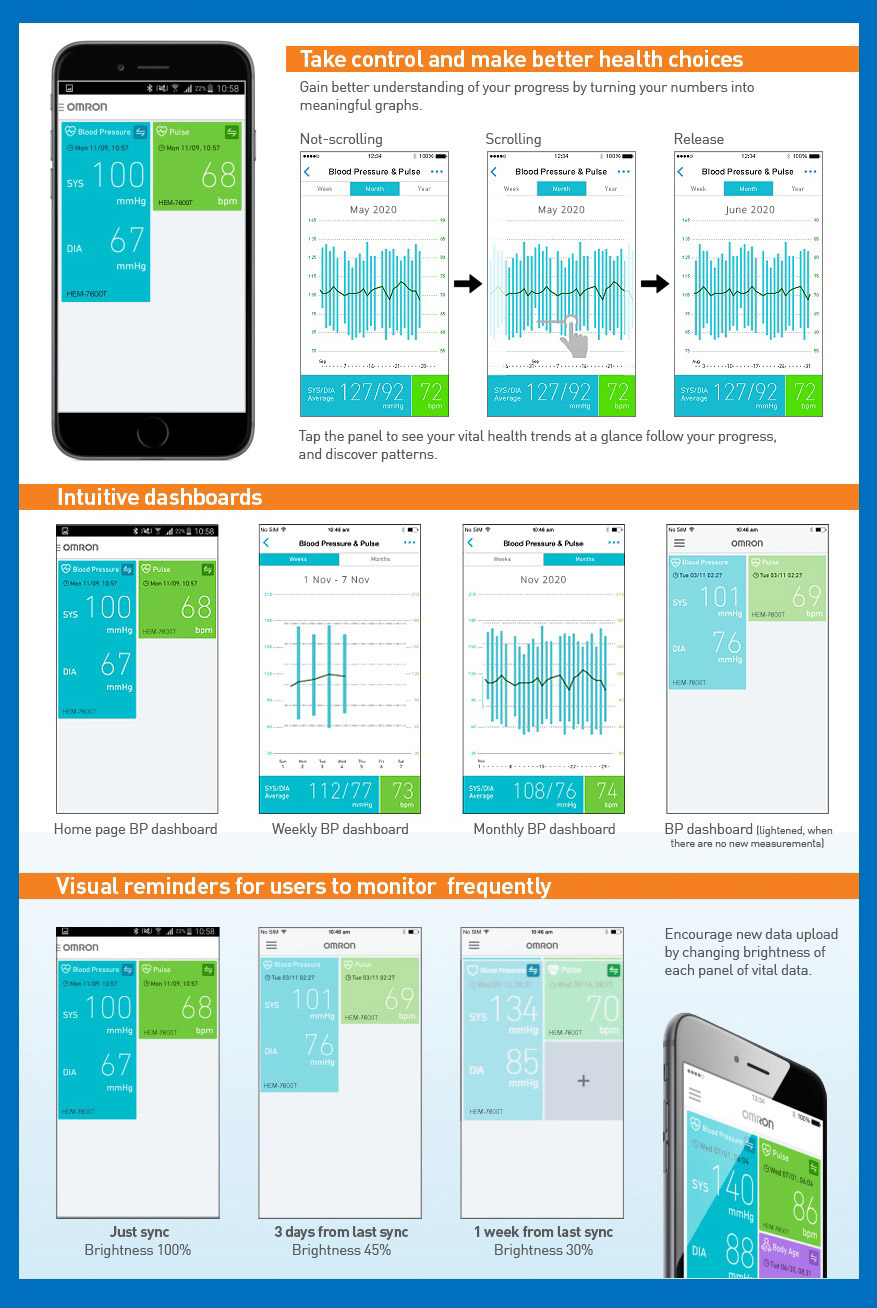 Only logged in customers who have purchased this product may leave a review.
Quick Comparison
Settings
Omron Smart Elite + HEM 7600 T digital blood pressure machine

remove

Omron Compressor Nebulizer NE-C106

remove

Omron HEM 7156 digital BP check machine

remove

Omron HEM 6181 BP monitor

remove

Omron NE-U100 Mesh Nebulizer

remove

Omron Compressor Nebulizer NE-C803

remove

Name
Omron Smart Elite + HEM 7600 T digital blood pressure machine

remove

Omron Compressor Nebulizer NE-C106

remove

Omron HEM 7156 digital BP check machine

remove

Omron HEM 6181 BP monitor

remove

Omron NE-U100 Mesh Nebulizer

remove

Omron Compressor Nebulizer NE-C803

remove

Image
SKU
HEM 7600T
NE C106
HEM 7156
HEM 6181
NE U100
NE C803
Rating
Price

Offer Price

₹10,980.00

Inclusive of all taxes

Offer Price

₹1,820.00

Inclusive of all taxes

Offer Price

₹3,860.00

Inclusive of all taxes

Offer Price

₹4,350.00

Inclusive of all taxes

Offer Price

₹8,985.00

Inclusive of all taxes

Offer Price

₹2,665.00

Inclusive of all taxes
Stock

In stock

In stock

In stock

Out of stock

In stock

Out of stock

Availability
In stock
In stock
In stock
Out of stock
In stock
Out of stock
Add to cart
Description
The Omron Smart Elite + HEM 7600 T digital blood pressure machine is the latest innovation in the range of Hypertension Management Products which makes it convenient for users to keep a consistent tab on their heart health. The BP check machine comes equipped with Intellisense Technology and IntelliWrap Cuffs which makes the process of taking hypertension readings accurate, convenient, and comfortable. Features like 360° accuracy and tubeless technology makes the device easy to use for all age groups. Intelli Wrap Fit Cuff (22-42 cm) Country of Origin: Japan Share your Reviews !

OMRON Compressor Nebuliser NE C106 is meant for a comfortable home nebulization experience, it is a powerful equipment that is meant to manage the respiratory health of adults and kids in a family.

Country of Origin- Vietnam Share your Reviews !
Omron digital blood pressure besides being clinically validated are also known to give the most accurate BP readings. Omron HEM 7156 digital BP check machine now comes equipped with the 360° Accuracy IntelliWrap™ Cuff for first time users which can be worn with just one-hand. Made to fit most Asian arm sizes the IntelliWrap Cuff ensures highly reliable BP readings no matter how it is worn. Intelli Wrap Fit Cuff (22-42 cm) Country of Origin: Vietnam Share your Reviews !
Omron HEM 6181 BP monitor machines equipped with the advanced posture guide sensor ensures that the monitor is placed at the correct height to obtain reliable readings conveniently. The digital BP machine can also ascertain the average of the last 2-3 readings taken within 10 minutes and stores upto 60 user measurements in its memory. Fit Cuff Country of Origin: Vietnam Share your Reviews !
The NE U100 Omron nebulizer machine is a portable device that can be used to pacify respiratory conditions at home. The Mesh cap technology used in the nebulizer machine makes use of alloy mesh and titanium vibrator to achieve superior nebulization efficiency. The ultra-quiet functioning of the nebulizer makes it ideal for use anytime and anywhere. Medicine can be administered at any angle, even in a lying down position.

Country of Origin- Japan

The NE C803 Omron nebulizer machine is a particularly compact solution of approx 180 gms for respiratory conditions. Though meant for both adults and pediatric usage, the quiet operation of this machine makes it a pragmatic choice for respiratory care in children.

Country of Origin- Vietnam

Weight
Dimensions
N/A
N/A
N/A
N/A
N/A
N/A
Additional information