Hypertension and Preeclampsia during pregnancy
May 8, 2022
2022-11-04 18:25
Hypertension and Preeclampsia during pregnancy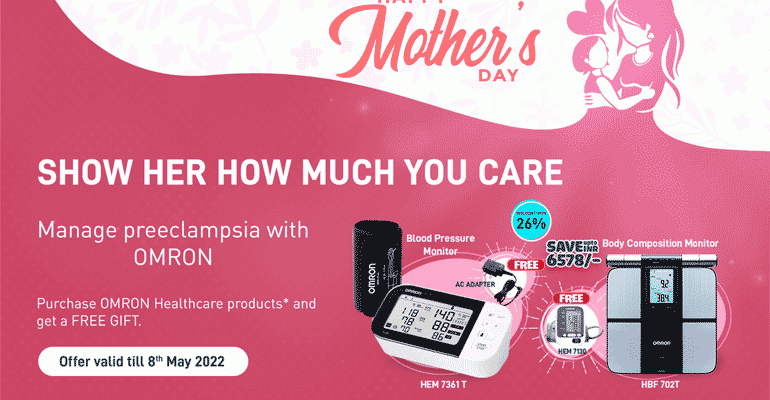 Hypertension and Preeclampsia during pregnancy
Hypertension is one of the biggest changes you'll experience during pregnancy. While blood pressure levels may severely fluctuate when you are expecting, managing it is important in order to avoid adverse health impacts on you and the baby. Here is everything you need to know about hypertension management while you are pregnant.
Hypertension And Pregnancy
Many women experience an increase in blood pressure as their delivery date approaches. However, it is completely normal and may be caused by the baby's weight compressing the vena cava (the large vein that returns blood from your lower body back to your heart). Blood pressure continues to increase into the second and third trimesters, but it usually returns to normal once the baby is born.
When you're first diagnosed with high/low blood pressure during pregnancy, you'll likely be prescribed medication to manage your blood pressure. You'll need to check your blood pressure regularly with a monitor to devise the best course of treatment.You should also continue to monitor your blood pressure throughout your pregnancy, as it can change quite a bit throughout this time. Monitoring your blood pressure will help you in taking preventive steps and at the same time help you to make sure that if you are suffering from preeclampsia, you're receiving the best care possible to manage your and your baby's health.
"Preeclampsia is a relatively common pregnancy complication that can cause serious problems for both the mother and baby. It affects 2-5% of pregnancies and is a leading cause of maternal and perinatal death and disability." – National Institute of Health. Preeclampsia. [1]
What causes preeclampsia?
Nobody knows for sure. Preeclampsia is thought to be caused by an issue with the placenta's health (the organ that develops in the uterus during pregnancy and is responsible for providing oxygen and nutrients to the fetus). In preeclampsia, the blood flow to the placenta may be reduced, which can cause complications for both you and the fetus.
Who is at risk of preeclampsia?[2]
Patients with history of kidney disease before pregnancy
Patients who have suffered Preeclampsia or high blood pressure in previous pregnancy
Women who are overweight or obese are more prone to develop preeclampsia in multiple pregnancies.
Women over the age of 40 are more vulnerable.
Multiple pregnancies (being pregnant with more than one fetus)
Patients with family history of Preeclampsia
According to the World Health Organization, 20 percent to 40 percent of preeclampsia patients' daughters and 11 percent to 37 percent of their sisters will develop the condition as well. [3]
Preeclampsia is also more common among women who have histories of certain health conditions, such as migraines, diabetes, rheumatoid arthritis, lupus, scleroderma, urinary tract infections, gum disease, polycystic ovary syndrome, multiple sclerosis, gestational diabetes, and sickle cell disease.
How to diagnose Preeclampsia
Preeclampsia symptoms can include: [4]
Changes in vision, like blurriness, flashing lights, seeing spots or being sensitive to light
Headache that doesn't go away
Nausea (feeling sick to your stomach), vomiting or dizziness
Pain in the upper right belly area or in the shoulder
Sudden weight gain (2 to 5 pounds in a week)
Swelling in the legs, hands or faceTrouble breathing
You may even be diagnosed with preeclampsia if you have 1 of the following:
elevated blood pressure,
protein in your urine, and
a slow or extra fast heart rate.
It is also a good idea to get a blood pressure check every month throughout your pregnancy to make sure your pressure is within normal range. If you notice any of these signs in yourself or your partner, talk to your doctor immediately. The sooner you get diagnosed, the better your chance of a healthy pregnancy.
How is preeclampsia treated?
Treatment for preeclampsia will be determined by your healthcare provider. It is determined by the severity of your preeclampsia and how far along you are in your pregnancy.
If you're close to full term (37 weeks or more), your baby will most likely be born early. You can still have a natural delivery, although a Cesarean section (C-section) is sometimes necessary. Your doctor may prescribe medicine to help your baby's lungs grow and control your blood pressure until the baby is born. It is sometimes preferable to deliver the baby early rather than risk the pregnancy being prolonged.
When preeclampsia strikes early in pregnancy, you'll be continuously examined in order to prolong the pregnancy and allow the fetus to thrive and grow. Prenatal appointments will increase, including ultrasounds, urine tests, and blood draws. It's possible that you'll be asked to take your blood pressure at home. If you have severe preeclampsia, you may need to stay in the hospital until your baby is born.
Your baby will need to be delivered if the preeclampsia progresses or becomes more severe.
People with preeclampsia are frequently administered magnesium intravenously (straight into a vein) during labor and after delivery to avoid the development of eclampsia (seizures from preeclampsia).
Complications from Preeclampsia
Preeclampsia, if left untreated, can be dangerous to both you and your baby.
Preterm birth, low birth weight, and placental abruption are the most prevalent problems before delivery.
HELLP syndrome can be caused by preeclampsia (hemolysis, elevated liver enzymes and low platelet count).
Preeclampsia causes damage to your liver and red blood cells, as well as preventing blood clotting.
Blurred vision, chest pain, headaches, and nosebleeds are also symptoms of HELLP syndrome.
Monitoring hypertension during pregnancy isn't just important for your health and the health of your baby, it's also important for your sanity. Having a consistent routine with your blood pressure monitor allows you to feel in control of your health and lets you know exactly what to expect from your body. While there are many different types of blood pressure monitors, the Omron Blood pressure monitors have many great features that make them super convenient to use. This device is a cuffs-based monitor that's simple to use and can be worn at home. You can also pair the device with an app, which will enable you to track your blood pressure over time and receive daily readings.
This Mother's day- show your mother how much you care for them. Help them take care of their health in the best way possible. Choose from our wide range of healthcare products- BP monitors and Body Compositoon Monitors and help them grow healthier everyday.