All About Going Nuts For The Heart
February 17, 2017
2022-05-04 1:00
All About Going Nuts For The Heart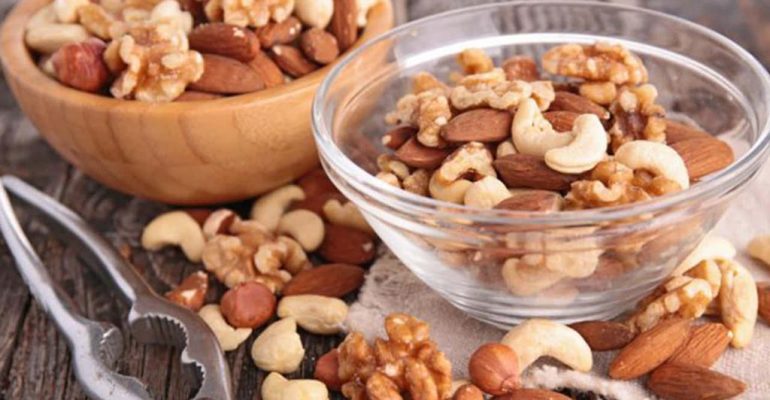 All About Going Nuts For The Heart
Going nuts with improving your heart's health? It is known that a healthy and active lifestyle can help you reduce your risk of developing coronary heart disease. Among the heart-healthy diets available, the DASH and Mediterranean diet are two of the most studied.
The DASH diet was developed to help lower blood pressure. It has also shown the ability to lower cholesterol levels. Additionally, the risk of heart failure and other chronic diseases were also observed to reduce in individuals following the diet.
As for the Mediterranean diet, 2013 research found that people adhering to this eating plan had a 30% lower risk of stroke and heart disease. Although previous trials showed the Mediterranean diet positively impacting the general population, a recent study reported that the health benefits are also extended to those already with cardiovascular disease, where the patients showed a 37% lower risk of death.
The DASH and Mediterranean diets share a few recommendations. They encourage eating plenty of fruits and vegetables, starchy wholegrain, a moderate amount of fish and lesser meat. Both diets also encourage the consumption of nuts.
Why nuts?
If you do not have an allergy to nuts, including them as part of a healthy diet may be beneficial for your heart. Studies have observed that nuts can help lower the low-density lipoprotein (LDL), or "bad" cholesterol levels in the body. LDL is one of the components involved in the build-up of plaque in the blood vessels, which can narrow them, leading to chest pain and coronary artery disease.
By consuming nuts, the lining of arteries appear to be healthier and the risk of developing blood clots that can cause a heart attack or stroke may also be lowered. Furthermore, eating more nuts has been linked to lower inflammation levels associated with heart disease. It is best consumed as part of a healthy diet that is also rich in starchy, high-fibre grains, fruits and vegetables, less meat and is low in sodium.
How do nuts help?
Besides being a good source of protein, nuts are rich in other naturally-occurring heart-healthy nutrients. These nutrients, whether working separately or combined, could produce beneficial effects on blood cholesterol, blood pressure and inflammation.
Unsaturated fat: Nuts contains both monounsaturated and polyunsaturated fat. These "good fats" have been shown to lower "bad" cholesterol levels.
Fibre: All nuts contain fibre, which can help lower your cholesterol. In general, fibre can also make you feel full, and eat less as a result.
Omega 3 fatty acids: Omega-3 provides a building block for hormones that regulate blood clotting, inflammation and artery wall contraction plus relaxation. They are a form of essential fats that your body cannot produce on its own. Fortunately, it can be found in many oily fishes like sardines and salmon, and of course, nuts.
Plant sterols: Plant sterols are a substance that can help lower cholesterol. It can be found in some nuts like almonds. It is also frequently added to products like margarine, yogurt and juice due to the difficulty of obtaining sufficient plant sterols from food.
L-arginine: An amino acid found in nuts, L-arginine may improve the flexibility of arteries and blood flow. In doing so, it may reduce chest pains and blood clots.
Vitamin E: An antioxidant which can also be found in nuts, vitamin E may help prevent the formation of plaque in your arteries.
Which nuts do I choose?
It does not matter which nuts you eat. Pistachios, hazelnuts, macadamias, pecans and cashews have also shown positive heart health results. Even peanuts, which are technically a type of legume, are linked to similar benefits.
Instead of selecting a specific type of nut to consume, choose low-salt varieties rather than those coated with honey, sugar and other additives or flavourings. Also, choose nuts that have been dry-roasted rather than those cooked in oil.
How about nut oils and nut butters?
Nut oils have the same heart-healthy nutrients, but they lack the fibre found in whole nuts. You can use these oils as part of salad dressings and in cooking. However, bear in mind when cooking with nut oils, that they may have different smoking points compared to vegetable oils. Exceeding the temperature could cause the nut oils to taste bitter and potentially produce harmful compounds.
Nut butter are also heart-healthy alternatives that can be used as a dip or spread on toast. Like nut oils, the butter form would contain similar nutrients good for the heart but will lack fibre.
How much do I eat?
Nuts can make a great snack on the go. However, nuts are also 80% fat. Despite this fat being heart-healthy, it can equate to a lot of calories, especially when portions are not controlled and weight is something you are working to reduce. Moderation is key in any healthy diet.
The American Heart Association recommends eating about 4 servings of unsalted nuts a week. Serving size of nuts is a small handful, or 42.5 grams of whole nuts. For nut butter or spread, a serving is two tablespoons. For serving sizes of specific nuts, this poster would be useful. Remember to stick to or reduce portions if you are watching your weight.
It is advisable to use nuts as a substitute for saturated fat, such as those found in meats, dairy and eggs. Instead of picking up potato crisps or cookies when you are hungry, try a serving of nuts instead. Remember, just eating nuts without reducing your intake of saturated fat or moderating your portions will not give your heart the benefit it deserves.
Also read: 14 foods that everyone should have for a healthy heart
About the writer:
Soo Lay is an Accredited Practicing Dietitian (Australia). She graduated from Deakin University, Melbourne, with a B.Sc. in Nutrition and Dietetics, followed by a M.Sc. in Obesity Risks and Prevention with Roehampton University, London. Her professional career spans eight years in the clinical arena where she sees patients requiring a variety of nutrition needs. Additionally, she mentors budding dietitians and has collaborated with tertiary education institutions in clinical trials. She has also served as one of the co-chairs in Singapore's national guidelines on obesity management.