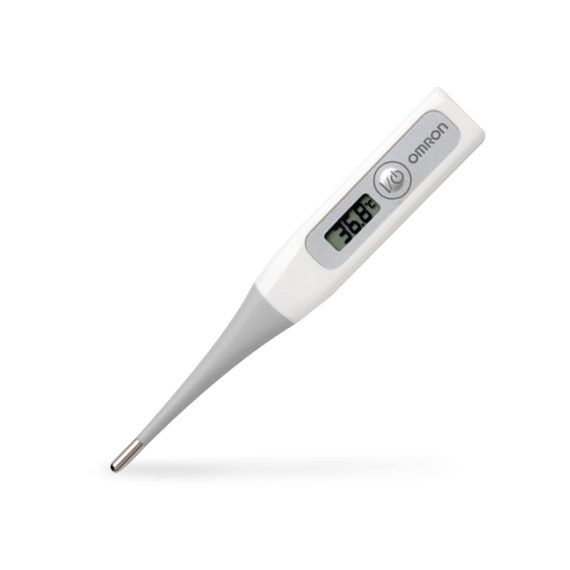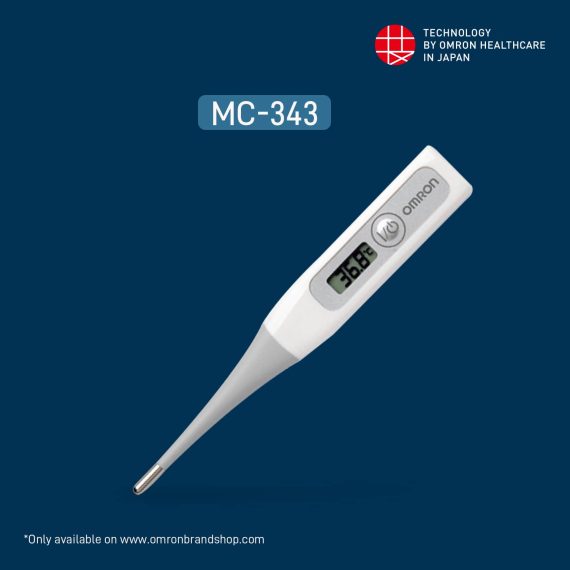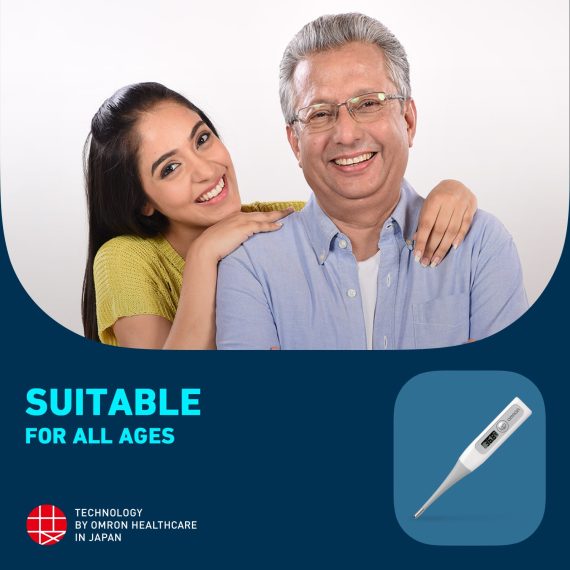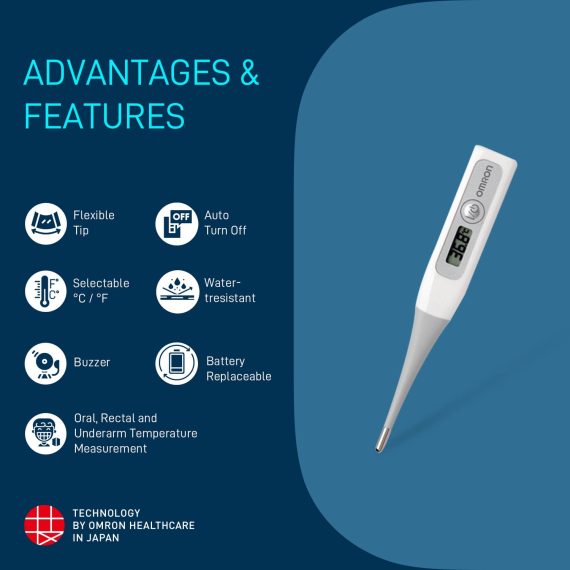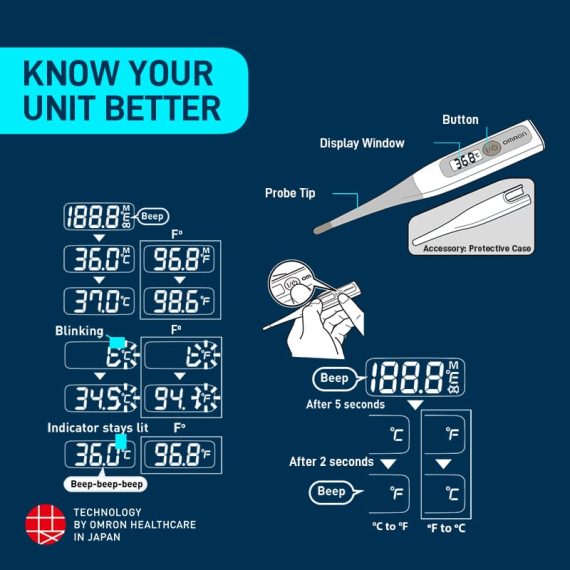 Omron MC 343 digital thermometer
Offer Price
₹399.00
Inclusive of all taxes
Just take your body temperature once a week to see how it's going and make sure you stay safe! With Omron MC 343 digital thermometer you can measure your body temperature at home without any broken glass or mercury hazards. The memory function will keep track of the last body temperature and the device beeps when the measurement is taken.
Country of Origin- China
In stock
Description
Only logged in customers who have purchased this product may leave a review.
Quick Comparison
Settings
Omron MC 343 digital thermometer

remove

Omron Electronic Pulse Massager HV-F021

remove

Omron HEM 7156-T Digital BP monitor

remove

Omron HEM 6232 T Digital Blood Pressure Monitor

remove

Omron Compressor Nebulizer NE-C803

remove

Professional Grade Omron HEM 7361 T BP monitor

remove

Name
Omron MC 343 digital thermometer

remove

Omron Electronic Pulse Massager HV-F021

remove

Omron HEM 7156-T Digital BP monitor

remove

Omron HEM 6232 T Digital Blood Pressure Monitor

remove

Omron Compressor Nebulizer NE-C803

remove

Professional Grade Omron HEM 7361 T BP monitor

remove

Image
SKU
MC 343F
HVF 021
HEM 7156-2
HEM 6232T
NE C803
HEM 7361T
Rating
Price

Offer Price

₹399.00

Inclusive of all taxes

Offer Price

₹4,990.00

Inclusive of all taxes

Offer Price

₹4,990.00

Inclusive of all taxes

Offer Price

₹5,890.00

Inclusive of all taxes

Offer Price

₹2,665.00

Inclusive of all taxes

Offer Price

₹6,990.00

Inclusive of all taxes
Stock

In stock

Out of stock

In stock

In stock

Out of stock

In stock

Availability
In stock
Out of stock
In stock
In stock
Out of stock
In stock
Add to cart
Description
Just take your body temperature once a week to see how it's going and make sure you stay safe! With Omron MC 343 digital thermometer you can measure your body temperature at home without any broken glass or mercury hazards. The memory function will keep track of the last body temperature and the device beeps when the measurement is taken.

Country of Origin- China

Achieve drug-free relief from acute/chronic spot pain with Omron HV F021 Electronic Pulse Massager. The electronic massager blocks pain messages and enables the release of endorphins for natural pain relief. This device targets shoulder, lower back, legs, feet, joint, and arm pain with its 6 Body Area Modes. It is also equipped with 3 massage modes which can be integrated with 15 intensity levels. The compact design of the device enables quick-pain relief anywhere, anytime.

Country of Origin- Vietnam

Omron's HEM 7156-T Digital BP monitor lets you manage and track your heart health journey efficaciously. The device comes with features like  Hypertension indicator, irregular heartbeat detection, and 360 Accuracy Intelliwrap Cuff which helps you in keeping high BP under check. The Bluetooth Connectivity feature integrates your readings with a smart device and enables you to share them readily with your physician for an effective course of treatment. Intelli Wrap Fit Cuff (22-42 cm) Country of Origin: Vietnam Share your Reviews !
The Omron HEM 6232 T wrist cuff digital blood pressure monitor makes the experience of measuring BP extremely comfortable with its compact design and ultra-quiet operation. The Morning Average indicator allows you to get an average of all the morning readings taken throughout the week thus allowing a more filtered insight into your heart health. The Hypertension indicator in the digital BP machine helps in diagnosing the presence of high blood pressure accurately. Medium Cuff (13.5-31.5cm) Country of Origin: Vietnam Share your Reviews !
The NE C803 Omron nebulizer machine is a particularly compact solution of approx 180 gms for respiratory conditions. Though meant for both adults and pediatric usage, the quiet operation of this machine makes it a pragmatic choice for respiratory care in children.

Country of Origin- Vietnam

Professional Grade Omron HEM 7361 T BP monitor is your comprehensive heart health management partner as beside measuring BP it also allows you to diagnose AFib and risk of strokes in one seating with the help of its Dual Check feature. Designed to take care of the heart health of your family members, the dual user function allows syncing of measurements to smartphones for up to 2 users. Intelli Wrap Fit Cuff (22-42 cm)

Country of Origin: Vietnam

Weight
Dimensions
N/A
N/A
N/A
N/A
N/A
N/A
Additional information