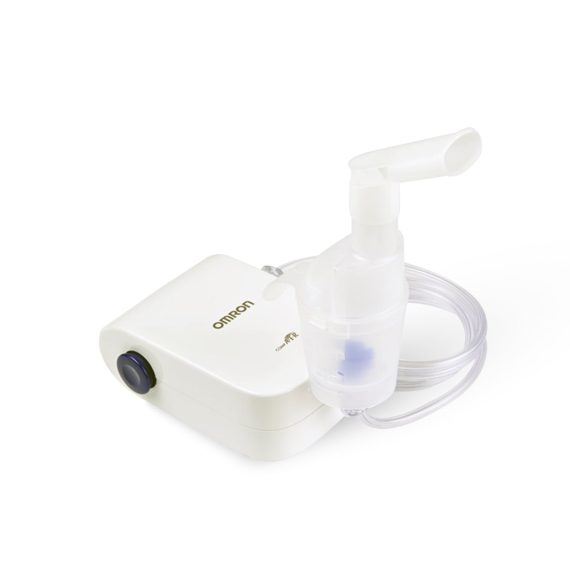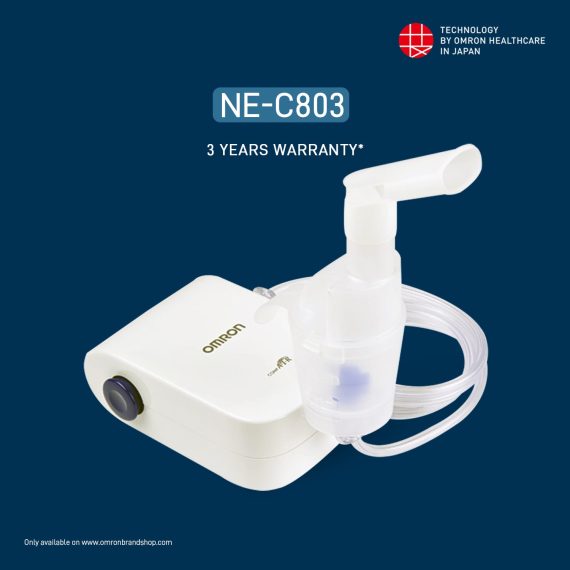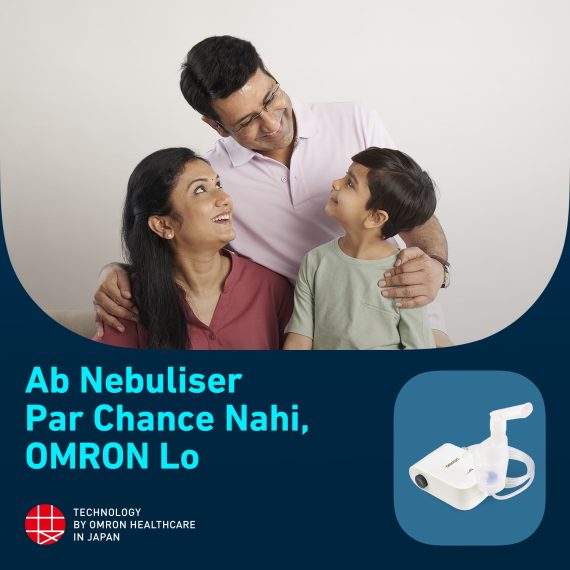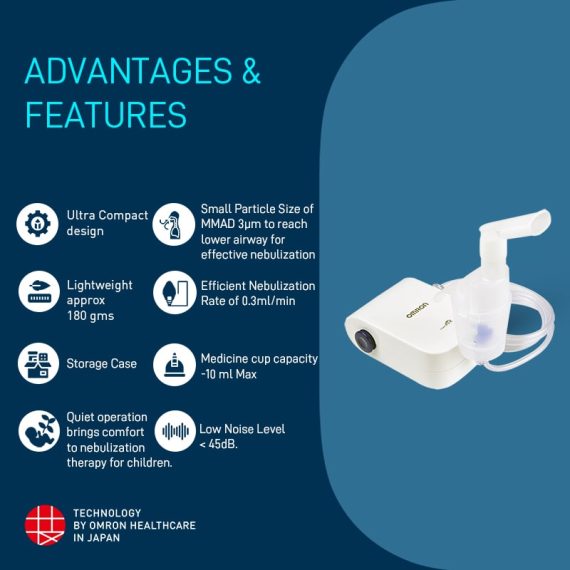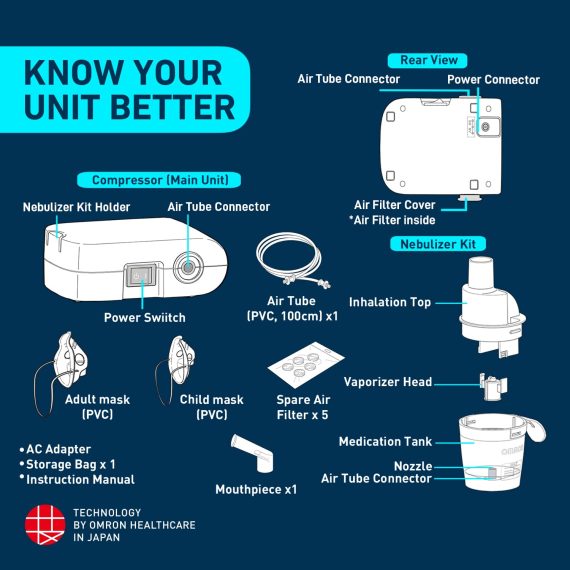 Omron Compressor Nebulizer NE-C803
Offer Price
₹2,665.00
Inclusive of all taxes
The NE C803 Omron nebulizer machine is a particularly compact solution of approx 180 gms for respiratory conditions. Though meant for both adults and pediatric usage, the quiet operation of this machine makes it a pragmatic choice for respiratory care in children.
Country of Origin- Vietnam
Out of stock
Get an alert when the product is in stock:
Description
Only logged in customers who have purchased this product may leave a review.
Quick Comparison
Settings
Omron Compressor Nebulizer NE-C803

remove

Omron HEM 7121 J Digital BP machine

remove

Omron HEM 6161 Digital BP machine

remove

Omron NE C301 Duobaby Compressor Nebulizer

remove

Omron HEM 6232 T Digital Blood Pressure Monitor

remove

Omron Electronic Thermometer MC 246

remove

Name
Omron Compressor Nebulizer NE-C803

remove

Omron HEM 7121 J Digital BP machine

remove

Omron HEM 6161 Digital BP machine

remove

Omron NE C301 Duobaby Compressor Nebulizer

remove

Omron HEM 6232 T Digital Blood Pressure Monitor

remove

Omron Electronic Thermometer MC 246

remove

Image
SKU
NE C803
HEM 7121J
HEM 6161
NE C301 Duobaby
HEM 6232T
MC 246
Rating
Price

Offer Price

₹2,665.00

Inclusive of all taxes

Offer Price

₹2,345.00

Inclusive of all taxes

Offer Price

₹2,345.00

Inclusive of all taxes

Offer Price

₹6,430.00

Inclusive of all taxes

Offer Price

₹5,890.00

Inclusive of all taxes

Offer Price

₹275.00

Inclusive of all taxes
Stock

Out of stock

In stock

In stock

Out of stock

In stock

In stock

Availability
Out of stock
In stock
In stock
Out of stock
In stock
In stock
Add to cart
Description
The NE C803 Omron nebulizer machine is a particularly compact solution of approx 180 gms for respiratory conditions. Though meant for both adults and pediatric usage, the quiet operation of this machine makes it a pragmatic choice for respiratory care in children.

Country of Origin- Vietnam

With Omron's HEM 7121 J digital BP machine you can consistently monitor your BP readings accurately within the safety of your home. Operating on the Enhanced Intellisense Technology , this BP machine allows for convenient and comfortable cuff inflation without the need of pre-setting the pressure or re-inflation. With the BP monitor you can also access your last BP reading to stay on top of your heart health. Medium Cuff (22-32 cm) Country of Origin: Vietnam Share your Reviews !
Omron's HEM 6161 digital BP machine is a perfect fit for your life that lets you measure BP with the one-touch start/stop button. The BP monitor device comes with an irregular heartbeat indicator and cuff wrap guide which not only makes the experience of measuring BP convenient but also managing your heart health at home possible. Fit Cuff Country of Origin: Vietnam Share your Reviews !
The Omron NE C301 Duobaby 2-in-1 Compressor And Nebulizer machine provides relief in respiratory disorders, nasal congestion, etc. The home nebulizer machine is recommended by pediatricians for use in children older than 6 months. The ergonomic design of the nebulizer machine makes it safe and convenient for everyday usage as well as handling. The nasal aspirator provided along with the device offers relief from nasal congestion besides comforting upper and lower respiratory diseases through nebulization as per the prescribed medication.

Country of Origin- Italy

The Omron HEM 6232 T wrist cuff digital blood pressure monitor makes the experience of measuring BP extremely comfortable with its compact design and ultra-quiet operation. The Morning Average indicator allows you to get an average of all the morning readings taken throughout the week thus allowing a more filtered insight into your heart health. The Hypertension indicator in the digital BP machine helps in diagnosing the presence of high blood pressure accurately. Medium Cuff (13.5-31.5cm) Country of Origin: Vietnam Share your Reviews !

Omron electronic thermometer MC - 246 helps in measuring body temperature by eliminating any broken glass or mercury hazards. You can easily switch between °C/°F and the device is also water resistant. Omron digital thermometer measures the temperature accurately.

Country of Origin- China

Weight
Dimensions
N/A
N/A
N/A
N/A
N/A
N/A
Additional information