Quick Ways to Relieve Your Baby's Blocked Nose
August 28, 2018
2022-11-04 18:44
Quick Ways to Relieve Your Baby's Blocked Nose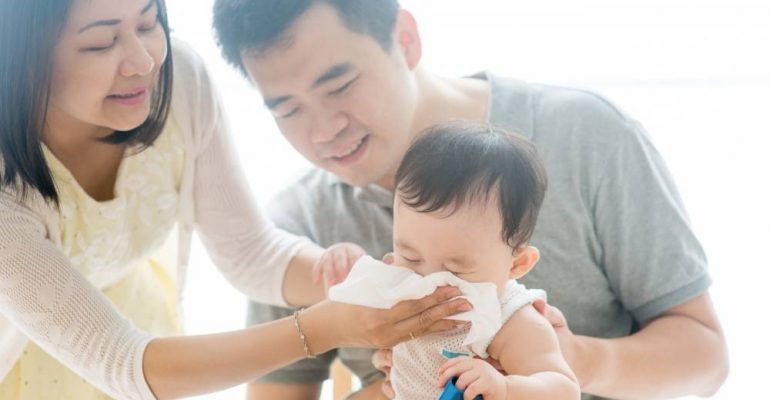 Quick Ways to Relieve Your Baby's Blocked Nose
Stuffy nose or nasal congestion happens when the tissues inside the nose swell or produce mucus. If your baby has a stuffy nose they may breathe through their mouth, which can make it harder for them to feed. Usually, nasal irrigation goes away on its own within a week. In rare cases, a stuffy nose and sinuses can cause breathing problems. Generally not every stuffy, runny nose needs treatment, as long as your little one is active and eats and drinks normally. But, in case you are wondering on ways to relieve your baby's blocked nose, here are some steps that you may use as home remedies:
1. Saline Solution
Saline nasal drops or saline spray is safe to use with babies, infants, and toddlers. Lay the baby down on his back and tilt his head back if possible. Put two or three saline nose drops or spray into each nostril and wait for 30 to 60 seconds. The saline solution works by thinning the mucus, making your baby feel more comfortable. The loosen mucus will drain by itself or you can use a bulb syringe. To use the bulb correctly, squeeze the bulb syringe first before placing the tip gently into your baby's nostril. Then release the bulb slowly to suck any mucus. Make sure you wash the bulb with soap and water after each use. It's safe to repeat this as often as you need. Babies older than 6 months may be fussy with the use of bulb syringe. Alternately, you can turn your child onto their stomach to help their nose drain. Clean the mucus outside the nostril with a tissue or swab. But do not insert a cotton swab into your child's nostrils. Even if there is no mucus coming out, your baby may cough or sneeze the mucus and saline out.
2. Cotton Swab and Warm Water
Sometimes mucus hardens into a crusty or sticky mess around your baby's nose. To clean it safely, wet a cotton swab with warm water and gently wipe the area.
3. Vaporize
Place a cool-mist vaporizer or humidifier in your baby's room to add moisture to the air. It helps clear your baby's stuffy nose. Make sure to clean the machine regularly so mould doesn't grow inside it. If you did not have a vaporizer, sitting in a steamy bathroom for a few minutes with your baby can give you the same soothing effect.
You may also use a nebulizer to relieve your baby nasal passages congestion. Your doctor may recommend the usage of a nebulizer to help ease your baby's runny nose. Hold your baby in an upright position and put him/her on your lap when using the nebulizer.
4. Back Pats
Gentle taps on your baby's back can help ease chest congestion. Lay him down across your knees and gently pat his back with your cupped hand, or do it while he sits on your lap with his body leaning forward about 30 degrees. It loosens mucus in the chest and makes it easier for him to cough it up.
5. Keep Your Baby In An Upright Position
Breathing through a stuffy nose is much easier when your head is slightly elevated. So place a towel underneath your baby's head to elevate it slightly. This can help mucus drain and give your baby some relief during nap and bedtime. You can also place your little one to nap in their car seat or swing (under your supervision) to help them sleep. Most importantly, keep your baby hydrated as hydration helps to loosen up the mucus. Use the saline steps above to try and clear congestion if your baby is reluctant when feeding.