Managing Respiratory Health Of Kids During Winters
December 29, 2021
2022-11-04 18:35
Managing Respiratory Health Of Kids During Winters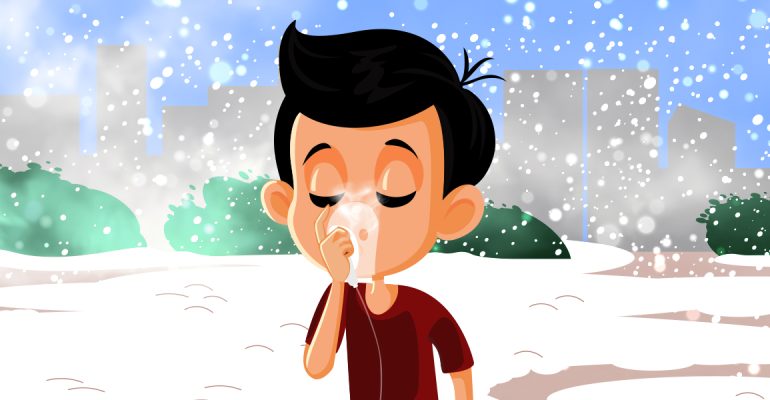 Managing Respiratory Health Of Kids During Winters
Healthcare setups witness a relatively higher rate of patient footfall due to the increased number of respiratory tract infections (RTIs) and cardiovascular diseases (CVDs) in winters. [1] Children become significantly more susceptible to RTIs in winters due to a weakened immune system. [2] Besides, just seasonal flu and the common cold, it is common for children to suffer from the following RTIs more so in winter than any other time around the year: [3]
Respiratory Syncytial Virus (RSV)

– Characterized by cough, runny nose, fever, upper airway or nasal congestion, and rapid breathing RSV is a common viral respiratory infection. Common in newborns babies it can sometimes lead to severe chest pain during the winter season. Chronic bronchitis is also often associated with RSV. 

Influenza

– Extremely contagious, Influenza is also known as flu. It is characterized by symptoms such as high fever between 103-104 degrees Fahrenheit, vomiting or diarrhea, mild conjunctivitis, or body ache.  

Pneumonia

– Pneumonia usually occurs in winters when the  alveoli (sacs in lungs) get filled up with fluid. It is characterized by symptoms of painful coughing, high fever, mild to intense shivering, vomiting & diarrhea, etc. 

Croup

– It is a high-pitched wheezing disorder in which children can be found prone to loud coughing. It occurs during the late hour of the night. 
Furthermore, RTIs also lead to the inflammation or swelling of airways often triggering more serious conditions like asthma or even chronic obstructive pulmonary disease (COPD). In fact, conditions like COPD or emphysema have no cure, however, proactive management is possible. 

Metered Dose Inhalers Vs. Home Nebulizers For Controlling RTIs 
Metered Dose Inhalers (MDIs) is a small hand-held device that works on the principle of aerosol drug delivery to treat respiratory conditions like asthma. Though the most advanced of their kind, MDIs do come with a set of usage-related challenges, especially for children. Shared below are a few of them: 
Limitations Of An MDI: 
Usage & Coordination

– Each MDI contains a pressurized canister filled with medicine which is attached to a mouthpiece. In order to use the inhaler, the user needs to press it. However, it should be pressed properly to release a sufficient amount of medicinal mist which can reach the airways inside the lungs. That's not all as for effective medication delivery, the user also needs to coordinate breathing with pressing the inhaler. 

Dosage Counting

– With an MDI, the user has to maintain a manual dosage count in order to replace the medicine canister. However, it is impractical to expect children to be able to maintain this count properly. Hence, in case of severe attacks, this limitation could result in an unfortunate outcome. 
Home Nebulizers are apparatuses that work by transforming liquid medication into mist and delivering it straight to the lungs. It is effective in treating a common cold, RTIs, Asthma, COPD, seasonal allergies, etc.  Home nebulization is also an effective prophylactic means of managing or treating respiratory diseases.  
Advantages Of Home Nebulization
Direct Delivery & Quick Relief

– Nebulizer enables direct delivery of medicine into the lungs by atomizing liquid into a mist making prompt relief from respiratory disease symptoms. In fact, common bronchodilators such as albuterol when administered through nebulization start showing signs of relief in 5 minutes as opposed to 30 minutes when consumed orally.

[4]
Convenient Usage

 – Unlike an MDI, home nebulizers do not require any special coordination skills for the administration of medicine making it easy for use by patients of all age groups.  
Omron For Your Child's Respiratory Relief
Omron is a known leading innovator in the field of respiratory medicine delivery. We manufacture nebulizers for home use in compliance with strict and standardized quality guidelines. We have incorporated the Virtual Valve Technology (V.V.T) in our selected devices which ensures optimum medication delivery and effectiveness by minimizing its wastage. 
Omron Duobaby 2-in-1 Compressor And Nebulizer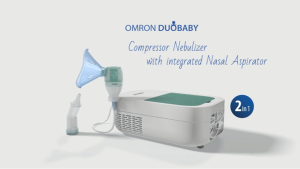 The Omron Duobaby 2-in-1 Compressor And Nebulizer is suitable for home usage given its ergonomic design. It is also safe for everyday usage for children to relieve both upper and lower respiratory tract infections, nasal or chest congestions, and manage asthma or COPD. The nasal aspirator in the apparatus offers relief from congestion following which nebulization can be carried out to treat or manage upper or lower respiratory tract infections. 
The Omron Duobaby is suitable for use in children older than 6 months. 
NE – C106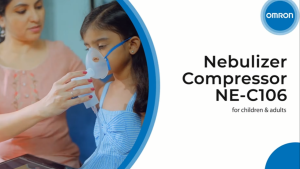 The Omron NE – C106 Nebulizer Compressor is an extremely effective nebulizer that offers relief from respiratory infections, congestion, asthma, COPD, etc. 
It can be used by both adults and children in a family. 
Conclusion
You can manage respiratory health for your children by combining home nebulization and some proactive home remedies together. For instance, inhaling steam daily can help in keeping respiratory infection and conditions triggered by allergens at bay. Nasal aspirators also known as bulb syringes can be used to treat cases of severe nasal blockage. Several spices and soups also keep common cold, cough, and flu at bay.