Home Nebulization During Chasing Weather
July 13, 2021
2022-11-04 18:35
Home Nebulization During Chasing Weather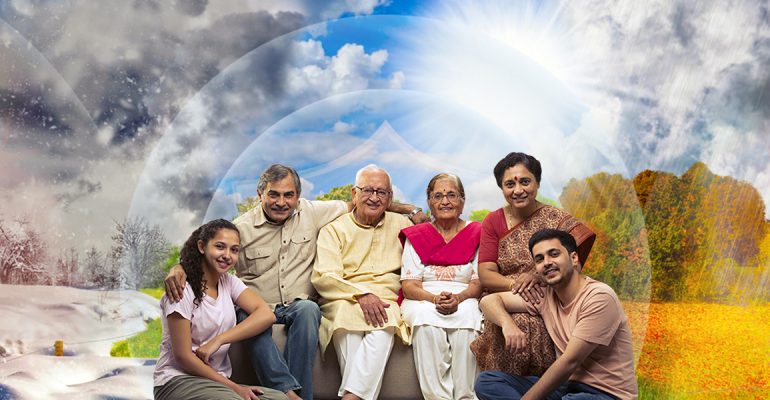 Home Nebulization During Chasing Weather
Most people will agree to the fact that changes in weather can make us sick. Fluctuations in temperature nurture a favorable condition for a distinct bacteria and viruses to grow and spread contagious illnesses. Rise in humidity also makes the immune system weak, making people more susceptible to cough, cold, fever, and other disorders. 
With every seasonal fluctuation, the number of allergens rises upto 200. Studies also show that adults are likely to suffer flu upto 2-4 times and children upto 5-7 times in a year. These figures are proportional to the number of times season changes in a year.1   
Seasonal and climate changes are likely to worsen the situation of people with respiratory disorders. The rise in temperatures are responsible for the increased suspension of pollen and other allergens from plants and particulate matter in the atmosphere. It is also responsible for depleted ground-level ozone and an increase in water as well as air pollution. The reduced level of ozone causes airway inflammation and destruction of lung tissues. Water and air pollution can aggravate respiratory syndromes such as Asthma. And, both pollen and allergens are commonly recognized triggers for both Asthma and COPD. 2,3,4
Implications Of Chronic Respiratory Diseases 
In the year 2017, COPD was the second leading cause of deaths preceded by heart diseases. It killed nearly 1 million people that year.5   Prolonged respiratory disorders such as COPD and Asthma have severe impacts on many areas besides the health and the quality of life of an individual. With breathing problems, uncontrollable coughing, and seasonal allergies due to weather fluctuations, something as basic as stepping out from home becomes a challenge. Patients who become bound to their houses often also fall prone to depression and other psychological disorders. 
Moreover, a few respiratory conditions such as emphysema and COPD do not have a complete cure. Without formal treatment and proper care the condition of patients with chronic respiratory issues may deteriorate and they may need intensive medical care to breathe without difficulty. Similarly, the key to managing seasonal allergies, flu, cold, wheezing, and fever is to build up immunity.  The key to manage respiratory diseases and allergies is to undergo proactive treatments by keeping an eye on the triggers i.e pollens, moist or cold weather or dust etc , strengthening immunity, undergoing respiratory therapies, and adopting some lifestyle changes.
Home Nebulization Therapy is recognized as one of the effective ways of drug delivery to manage respiratory disorders and achieve relief from its symptoms.6 Let us elaborately learn how people suffering from chronic respiratory illnesses and other seasonal allergies use this therapy to their benefit. 
Home Nebulization Therapy and Its Benefits
A nebulizer functions by transforming liquid medicines into the form of mist that reaches straight to the lungs hence, targeting respiratory issues more effectively. In emergency cases of breathing difficulties nebulization proves to be effective in management. It can also be used as a prophylactic means of treating other respiratory conditions. Besides, a nebulizer can also be used to deliver medicines to treat seasonal flu, cough, and cold. Since, the administration of medicine with nebulizers is rapid, it offers prompt relief from symptoms such as nasal congestion, wheezing, etc. 
As far as ease of usage is concerned, nebulizers are ideal because they do not require any breathing coordination skills like in the case of metered dose inhalers. It comes in compact shapes and sizes making the device easy to handle and fit for home use. Both adults and the pediatric segment of users can handle nebulizers safely at home as they only require the patient to sit, measure the medication, attach the mouthpiece, and breathe. Children can easily undergo nebulization therapy in presence of adult supervision. 
We recommend that you read other blogs on home nebulization therapy to find out about other benefits and the best type of nebulizer suited for your conditions. The blogs have been linked down for you as follows:
Conclusion
Whether it is seasonal allergies or respiratory disorders during the chasing weather, none of it should be able to limit the quality of your life. It's best to perform home nebulization therapy as per your doctor's prescription to keep both at bay. 
It must be noted that neither home nebulization nor lifestyle changes are a complete cure to seasonal or respiratory conditions. However, these are a certain way of effectively managing disorders when combined with the advice of a specialist. 
References: