5 daily habits to improve cardiovascular health
September 7, 2016
2022-11-04 18:49
5 daily habits to improve cardiovascular health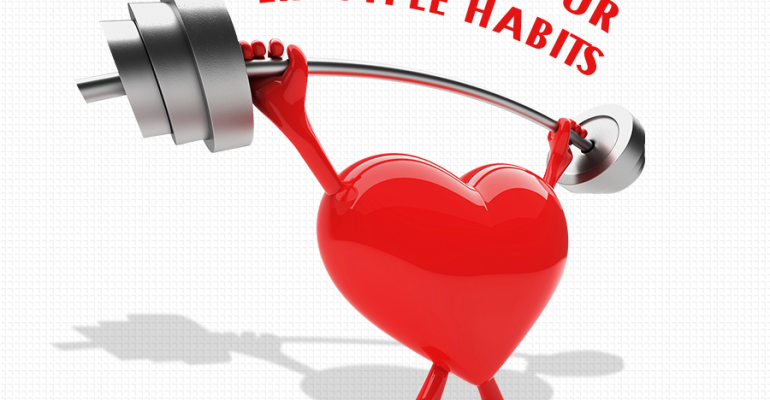 5 daily habits to improve cardiovascular health
One of the most important things you can do for your own personal well-being is to pay special attention to your cardiovascular health. In the past decade, we've seen a slow but steady increase in the number of cardiac health sufferers in their late 20s and early 30s – a sobering indication that while these fast-paced times are exciting, they certainly take a toll on one's cardiovascular health. The good news is that there are five effective and doable practices that you can apply on a daily basis in order to decrease your risk for cardiovascular health problems. Read, apply, and your ticker will thank you for it!
Habit Change 1: Make the Transition to Healthy Fats
Truth: Not all fats are bad. Fat is actually a necessary component in a well-balanced diet, for as long as you incorporate only these kinds: unsaturated, saturated, and polyunsaturated. The one thing that you can completely ignore in order to maintain a good level of cardiovascular health is trans fat. Foods that are high in trans fat increase one's risk of heart disease and stroke. This kind of fat raises your LDL (bad cholesterol) levels while it lowers your HDL (good cholesterol) levels and ends up clogging your arteries. Eliminating them from your diet will drastically improve your blood flow and your overall cardiovascular health as well.
So, what are these trans-fat food items that you should ignore? They're mostly in a lot of packaged foods (baked goodies and snack items), margarine, and greasy fast foods that are high in flavour and LDL. When in doubt, always read the label on a food item: trans fat will be on the list if you spot the ingredient "partially hydrogenated oils". If the nutritional information says trans fat, then you know it wreaks havoc on your cardiovascular health.
Habit Change 2: Commit to Good Dental Hygiene
It might be a bit hard to believe that dental health is related to cardiovascular health, but it is! How healthy your teeth are can be a good indicator of the status of your overall cardiovascular health, given that those who suffer from periodontal (gum) disease usually are at risk for heart disease. The relationship between dental and cardiovascular health is based on the presence of bacteria in your mouth, which is prevalent if you already have gum disease. This bacteria can make its way to your bloodstream and cause your blood vessels to become inflamed. When this happens, your potential to develop stroke and heart disease because greater. As such, make it a point to floss every single day and brush your teeth after every meal in order to keep gum disease at bay!
Habit Change 3: Meet Your Required Amount of Sleep
For many, sleep only comes when you've finally finished everything on your very busy plate – even if it's just an hour or two of snoozing until you get up and do it all over again. Lack of sleep can really do a number on your cardiovascular health, apart from altering your metabolism and putting yourself at risk for diabetes and weight gain. Not getting enough sleep activates your stress hormones, leaving you depressed and anxious – yet two more risk factors for heart disease! So, try to tuck in early every night. If you have trouble falling asleep, make sure your bedroom is cool, quiet and dark to encourage sleep. Avoid eating big meals at night, which fires up your metabolism and makes it hard to wind down. It's also advised not to ingest alcohol prior to bedtime because doing so can disrupt one's normal sleeping patterns. You can also consult with your doctor if sleep still eludes you, and he can provide you with other methods to get your forty winks.
Habit Change 4: Do Daily Blood Pressure Checks
Oftentimes, we get so busy that we ignore the subtle messages our body is telling us about its current state of cardiovascular health. For many people, the best way to be informed is by performing a blood pressure check at least once a day. This is very handy because if the levels that register on the bp measuring machine are way off what's normal, then it's a sign that you should consciously take it easy and find ways to relax ASAP. This is especially useful to people who experience high levels of stress in their work and would appreciate simple means to check in on their cardiovascular health. Luckily, blood pressure monitors can easily be purchased in pharmacies and pharmacy sections of department stores and grocery stores. It will also help if you record your daily blood pressure checks to evaluate how you're doing so far and determine if you will need to make the necessary lifestyle changes to restore your cardiovascular health.
Habit Change 5: Make it a Point to Move
Sitting and working at your desk might seem like a very relaxing thing to do (especially when you've got a cup of coffee, a nice snack, and are in a cosy, air-conditioned room), but you are actually doing your cardiovascular health a disservice when you keep this up for prolonged periods of time. If your work keeps you sedentary most days, you are a good candidate for cardiovascular disease as well as upping your chances of getting deep vein thrombosis. Thus, ensure you find small but significant daily opportunities to move throughout your day. Simple things like parking as far away from your office entrance as possible (forces you to log in the steps), getting up to do periodic walks around the block (or even on your floor, if going outside is not possible) or taking the stairs instead of the elevator. If regular trips to the gym are not viable, at the very least these little things will be good to start you off on the path to good cardiovascular health.
Becoming heart-healthy and heart smart always begins with baby steps that lead to daily habits – which can then become a lifelong practice that effectively allows you to live longer and fuller!